FINISAR 50 MHz to 3000 MHz Pluggable XFP-RF Transmitter
(무선 아나로그신호 최대 15KM 광전송)
KEY FEATURES
 Analog Carrier Loading from
50 MHz to 3000 MHz
 Wavelengths can tuned across
the entire C-band at 100 GHz ITU
DWDM spacings
 Tunes to different wavelength
in less than 0.5 seconds
 Packaged in standard XFP
pluggable optical module
 Built-in digital diagnostic
functions
 Link distance up to 15 kilometers
 LC/APC optical connection
 Power consumption less than
3.5 Watts
 Operating temperature range of
0°C to 65°C
 Compliant with SCTE 195 2013:
Interface Specifications for an
RF-Modulated Small Form Factor
Pluggable Optical Module
 Mechanical dimensions compliant
with 10 Gigabit Small Form
Factor Pluggable Module (XFP)
Multi-Source Agreement
(INF-8077i, Rev. 4.5)

applications
 Antenna Remoting
 Distributed Antenna Systems
(DAS) to Extend Wireless
Infrastructure
 1550nm Broadcast with DWDM
Narrowcast Overlay architectures
 All-Digital QAM networks
Wavelength tunable, 3 GHz pluggable
optical TRANSMITTER MODULE

OVERVIEW
Finisar's XFP-RF transmitter is a small form factor hot-pluggable optical module that is
compliant with interface specifications developed by the Society of Cable Telecommunications
Engineers (SCTE). It can be fully loaded with analog carriers from 50 MHz to 3000 MHz in
order to enable operators to effectively utilize a broad range of frequencies when designing
distributed antenna systems and RF Over Fiber networks. The small XFP module significantly
reduces power consumption and increases density for downstream transmitters.
The transmitter wavelength can be tuned to any of the 43 different Dense Wavelength
Division Multiplexing (DWDM) wavelengths across the entire C-band in less than 500 ms. This
increases operational efficiencies in deploying DWDM networks and reduces inventory of
transmitters at different fixed wavelengths. Wavelength tunability also opens the possibility of
novel HFC architectures that can dynamically route services and increase bandwidth capacity
in the cable operator's access network.

KEY ADVANTAGES
 2x to 4x density improvement over current transmitter solutions
 At least 50% less power consumption per transmitter
 Enables future HFC architectures to route services dynamically by changing the
wavelength of the transmitter
 Enables pluggable optics to be utilized directly in next-generation Cable Modem
Termination Systems and QAM modulators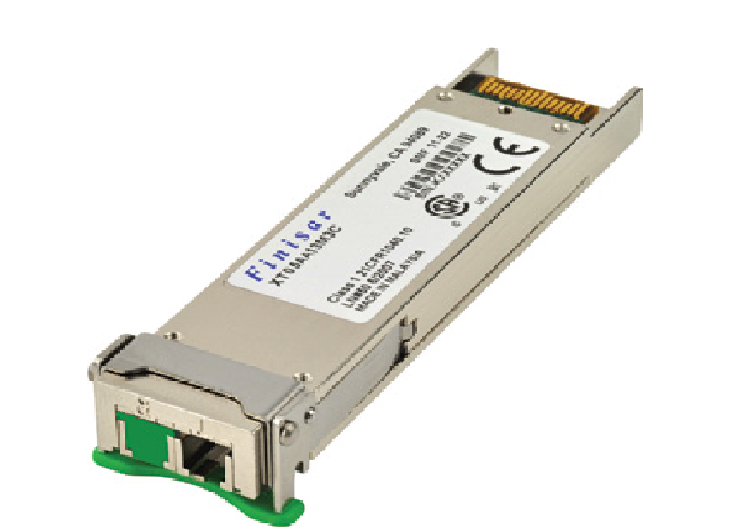 SPECIFICATIONS
Visit Our Website

Part Number Description
XT04AARTENJD1860 XFP-RF Pluggable Tx, Wavelength-Tunable, 50 MHz to 3000 MHz, +4 dBm
XT04AAR5ENJDxxx XFP-RF Pluggable Tx, Fixed Wavelength, 50 MHz to 3000 MHz, +4 dBm

PRODUCT SELECTION
xxx – fixed wavelength designated with ITU DWDM channel number
* With Finisar Optical Receiver. 1 km of SMF-28 single-mode fiber. Host system or chassis may degrade performance.

상세문의; 무선랜통(주) 02-716-3799