[EXA] 10/100Base-T Copper SFP 광모듈-RJ45
모델번호: EXA-3201T MSA
MSA기본 광모듈, 10/100Base-T Copper SFP, CAT.5 UTP, RJ45, 100m 전송.
Features
Hot-pluggable SFP footprint
Extended case temperature range (0°C to +70°C ) Fully metallic enclosure for low EMI
Low power dissipation (1.05 W typical)
Compact RJ-45 connector assembly Compatible with IEEE802.3u
Access to physical layer IC via 2-wire serial bus
A 10/100BASE-TX/ 100BASE-FX converter
Applications
This 100Base-TX Copper SFP Transceiver supports the SFP based switch100Base-FX ports that accept standard 100Base-FX optics SFP.
Description
EXA-3201T Copper Small Form Pluggable (SFP)transceivers is high performance, cost effective module compliant with the Gigabit Ethernet and 1000- BASE-T standards as specified in IEEE802.3u, which supporting 100Mbps data- rate up to 100 meters reach over unshielded twisted-pair category 5 cable. The module supports10/100 Mbps full duplex data-links with 5-level Pulse Amplitude Modulation (PAM) signals. All four pairs in the cable are used with symbol rate at 25Mbps on each pair.
The module provides standard serial ID information compliant with SFP MSA, which can be accessed with address of A0h via the 2wire serial CMOS EEPROM protocol. The physical IC can also be accessed via 2wire serial bus at address A0h.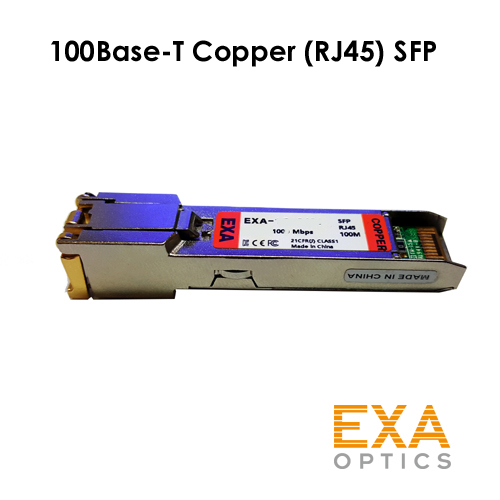 *제품외관은 성능향상을 위해 변경될 수 있습니다.
*기술문의: 엑사통신 기술팀 02-716-3799