현재위치 :

HOME

>

무선랜-유무선공유기,AP,브리지,무선랜카드,POE,무선CF,SD,NAS,스마트폰용,무선분석기,스펙트럼분석

>

무선랜 브릿지

> 이더넷 무선랜 브릿지


WLNG-ET-DP101
Extended operating temperature range (-40°C to +85°C) and
environmental specifications, including shock and vibration tolerance

Advanced security: WEP (64 & 128 bit), WPA and 802.1x
(LEAP) authentication

Highly integrated transparent 802.11b/g Wireless Ethernet Bridge

Integrated 10 base-T Ethernet PHY

Software-configurable 802.11b/g interface

Integrated RTOS, TCP/IP Stack and CLI

Reduces need for RF and communications expertise

Quick time to market and reduced integration costs
FCC Part 15 Class B Sub C Modulare Approval minimizes regulatory testing requirements

5 year warranty.
AIRBORNE EMBEDDED WIRELESS ETHERNET BRIDGE MODULe 802.11b/g WLNG-ET-DP101 Model
Technology:
IEEE 802.11b/g, WiFi compliant (802.11i, 802.11e, 802.11d capable)
Frequency:
2.4 ~ 2.4835 GHz (US/Can/Europe)
2.471 ~ 2.497 GHz (Japan)
Modulation Technology:
DSSS, CCK, OFDM
Modulation Type:
DBPSK, DQPSK, CCK, BPSK, QPSK, 16QAM, 64QAM
Network Access Modes:
Ad-hoc, infrastructure
Channels:
11 channels - USA/Canada
13 channels - Europe
14 channels - Japan
4 channels - France
Data Rate:
802.11b rate: 11, 5.5, 2, 1 Mbps
802.11b/g rate: 54, 48, 36, 24, 18, 12, 9, 6 Mbps
MAC:
CSMA/CA with ACK, RTS, CTS
Data Transfer:
TCP/IP, HTTP, UDP
Sensitivity:

-71 dBm for 54Mbps
-77 dBm for 36Mbps
-83 dBm for 18Mbps
-85 dBm for 11Mbps
-87 dBm for 1Mbps

Security:
WEP 64 & 128 bit (RC4), WPA (TKIP), 802.11x (LEAP)
Antenna:
Two U.FL coaxial connectors, 50 ohms, supports receive diversity
Supply:
3.3 VDC +/-5%
Current Consumption:
575mA - transit mode (typical)
375mA - receive mode (typical)
Power Up Inrush Current:
3000 mA (max) 20ms
Operating Temperature:
-30°C ~ +85°C
Relative humidity:
5% - 95% (non-condensing)
Vibration:
20G peak-to-peak, 20Hz - 2KHz
Shock:
1500G peak-topeak, 0.5mS
Ethernet Interface Data Throughput:
10Base-T (4Mbps data throughput max)
Analog Inputs:
Up to 8 channels, 10 bit resolution, single ended, 0-2.5V
Connector:
36 Pin (P/N: HRS DF 12-36DS-0.5V) 4-mm height
Agency Approvals:
FCC Part 15 Class B Sub C Intentional
CE ETSI EN300 328, EN301 489, ETSI 60950-1
IC RSS210
RoHS and WEEE compliant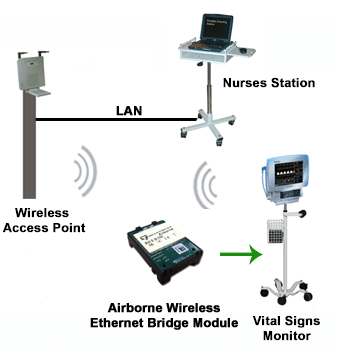 고객님 결재 완료 확인후
1~3일 이내 전국(도서지방제외)으로 택배를 통해서 배송됩니다.
교환 및 반품은 배송 후 14일 이전에 가능합니다.

제품 이상이 아닌 경우는
제품을 개봉하지 않은 재판매가 가능한 상태이어야 하며,
저희 고객센타(전화:02-716-3799)로 연락을 주시면 신속히 처리를 해 드리겠습니다.

환불의 경우 신용카드 결제시는 신용카드 취소를
온라인 입금인 경우, 주문자 계좌번호를 알려주시면 3일내로 입금처리해 드립니다.
***중요공지***
wirelesscafe.co.kr 이외의 도메인으로 접속한 경우에는 결제시
아래 그림과 같이 보안오류가 발생하오니,다시 wirelesscafe.co.kr 로 재접속후
구매를 진행하여 주십시요.